Eco-Friendly doesn't have to mean a battle against the odds for your wedding.
We don't expect you to wage war against your venue if it doesn't have low-flow toilets, but we're all for helping the earth—and you can do it without sacrificing your budget, vision or sanity. Check out our tips for going green without walking down the aisle in a biodegradable paper dress. And when you're ready to start booking the pros, check out this eco-friendly vendor guide.
The Reception Venue
Choosing a venue helps set the stage and theme for any event and is usually your first major decision. One of the biggest ways to cut down on energy is to get married outdoors, like on a farm or vineyard, where the sun can provide all of your lighting. There are tons of beautiful botanical gardens, hilltops and refurbished barns that offer modern conveniences, like sinks and toilets, so you don't have to sacrifice on the hygiene.
We know outdoor ceremonies and receptions don't work for everyone. If you want to be indoors, there are several ways you can make it green. First, hold your ceremony and reception in one place—no one will have to travel to get from one event to the next, which cuts back on fuel emissions. Or choose a venue that gets plenty of sunlight and host a daytime wedding so you can leave the lights off. Another way to be green indoors: Look for hotels that recycle and use energy-efficient appliances and biodegradable products. Not sure where to start? Check out Environmentally Friendly Hotels for reviews and rankings.
The Stationery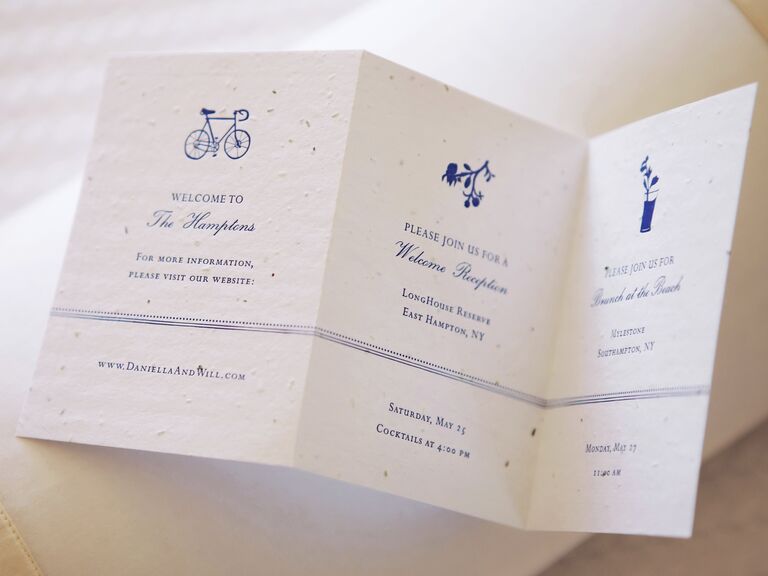 Millions of trees are toppled every year to make paper products, and the process of producing these items pollutes the environment. Now more and more couples are trying to help by making eco-conscious invite choices. We do recommend old school snail mail for the wedding invitations, but for save-the-dates, paperless is becoming more and more common. You can also reduce the inserts in your invitations by directing people to your wedding website for any extra details. For your invitation, keep an eye out for stationers who offer recycled paper products and vegetable-based inks, like The Windmill Paper Boutique (they even source printing from windmill-powered printers!). Some paper products are even plantable—yes, plantable! Paper from companies like Botantical Paper Works are embedded with seeds, so guests can plant them in their backyards and the paper turns into flowers, plants or herbs instead of ending up in a landfill. Or you can opt for sustainable resources, like cotton items from Crane & Co. or bamboo options by Smock.
The Flowers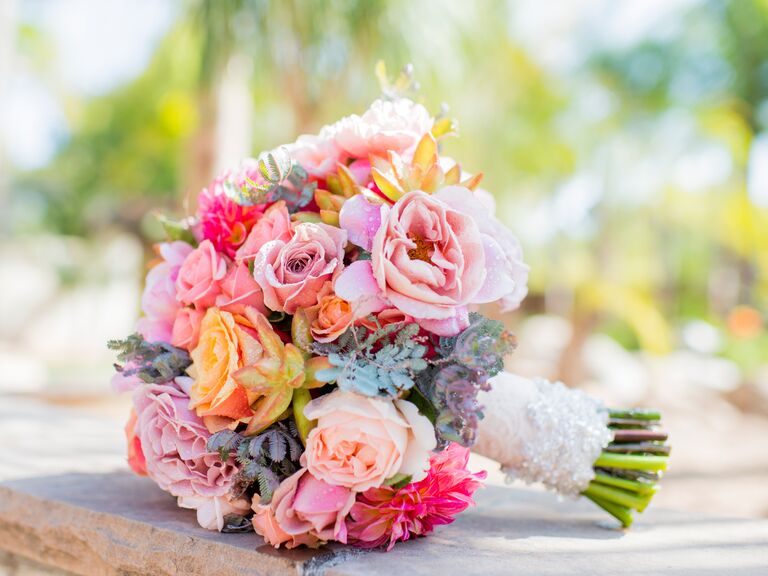 You may not think about it, but not all flowers are organic. Some farms use chemicals to keep insects at bay, which can end up affecting organic matter in soil, and in some cases, causing illness in the workers who handle them. To make sure your blooms are as sustainable as possible, look to companies that are farm-to-table, so to speak—companies that cut the stems and have the flowers to you within a few days, like The Bouqs Co. (and less refrigeration time means less electricity use!). Ask your florist about in-season and local flowers to insure the freshest, best quality stems at the best price. If you have your heart set on a flower that isn't in season and a seasonal replica won't do, look for flowers that are VeriFlora-certified. This means that the blooms aren't grown with chemicals or grown under harsh working conditions. Don't want your beautiful flowers thrown away after your celebration? Work with a company that will pick up the arrangements and reuse them, like Rebloom or Repeat Roses. Another eco-friendly choice is to choose potted blooms, plants or topiaries as centerpieces. This way, you can take them home and replant them after the wedding.
Not a flower person? Walk down the aisle with a brooch bouquet, an arrangement of silk stems or a bundle of farmer's market fruits and veggies (kale, for example, has a sturdy stalk and beautiful green foliage) and decorate reception tables with things you can reuse in your home after the wedding, like soy-based candles or stacks of books.
The Catering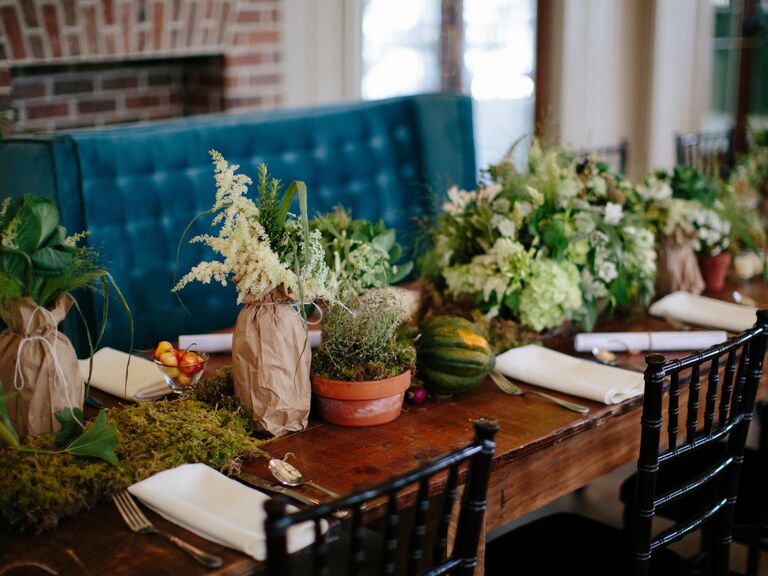 Food is the center of any celebration, and going green doesn't mean you have to sacrifice taste! The farm-to-table movement is in full swing, meaning it's more accessible than ever to source healthy, earth-friendly food. When you're budgeting, keep in mind that organic foods may cost more, but asking your caterer to source from in-season, locally-grown products will help keep the cost down and guarantee the freshest finds. You can also work with a neighborhood baker to see if they're on board to use locally-sourced ingredients (like eggs and dairy products) for the cake. When bought directly from growers, food needs less time in the fridge and less packaging to stay fresh, so you're being especially kind to Mother Earth, too. And since the food is coming from a shorter distance, less fuel is needed to transport it. Really want to impress your guests? Supplement your table decor with herb plants in terra cotta pots, like basil or cilantro, that guests can add straight to their dishes.
The Wedding Dress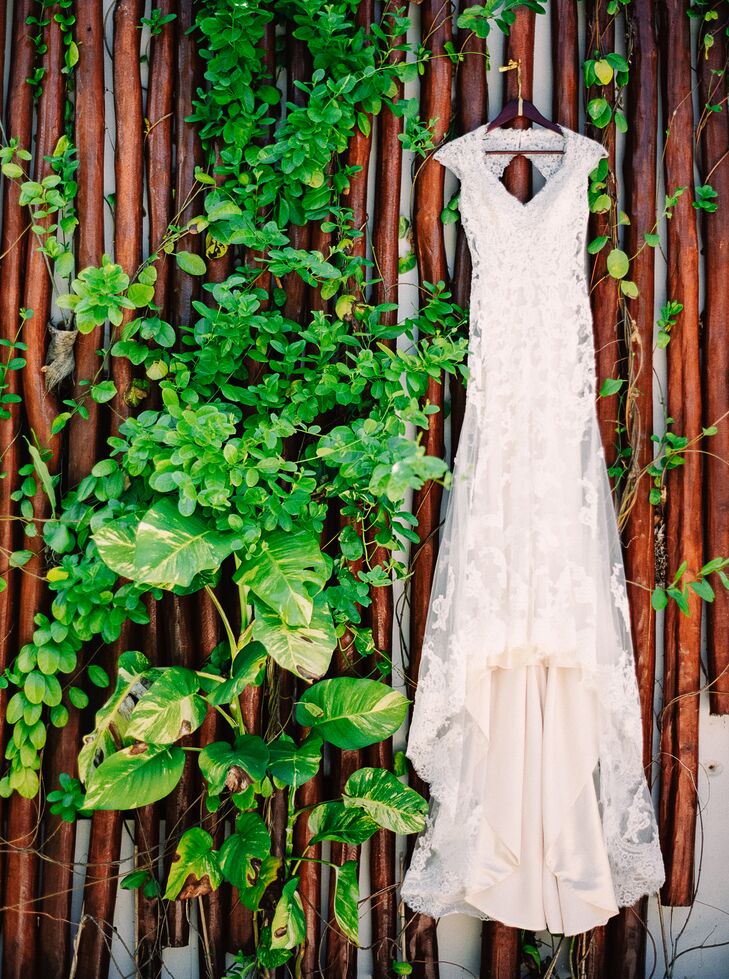 The first thing that comes to mind when thinking about eco-friendly dress shopping is re-wearing a gown, maybe even your mother's. If you love the idea of wearing her dress, but aren't totally in love with the dress itself, work with a seamstress to make it more your style. Or, if mom's dress is out of the running, start from square one and pick out a gown that's totally you. First stop: Check out vintage clothing shops or consignment boutiques. Nothing speaking to you? Or borrow from rental stores like Laine London. Offer a few guidelines, like a color or dress length. They'll love that they can show off their style.
 If you prefer to wear a brand-new dress, try to find a designer who uses sustainable fabrics (like organic cotton, silk or hemp), such as H&M's eco-conscious wedding collection. You can also pay it forward by saving the gown for future use. Wedding Dress Preservation by The Knot will help you keep yours in tip-top shape in case you want to pass it down later. Wedding Dress Shoppers can help you find the perfect sustainable dress at either no charge or a small fee. Try Sustainable Brides with stylist-curators on the east coast.